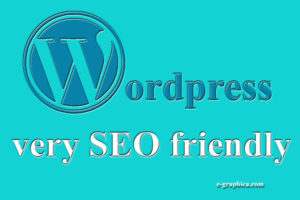 By now, everyone knows that WordPress is one of the most used CMS for business. It is even better than other Content Management Systems like Drupal and Joomla because it is SEO friendly.
WordPress comes with multiple SEO features that let search engines crawl on the content easily.  If you are still wondering how and why is WordPress SEO friendly, have a look at these reasons:
It offers SEO friendly themes
Almost all of the themes provided by WordPress are SEO friendly. They are mobile responsive and their code makes them SEO optimized. Most of the SEO gurus recommend using the Genesis themes for SEO purposes. These themes are light and they are capable of loading faster too.
Well organized structure
In SEO, a well-organized website and content structure counts a lot. WordPress is easy to handle. It is designed in such a way that the content naturally organizes into the pages, tags, and categories.  When you are writing content for your website, you simply have to specify the type of content i.e. is it a page or a blog post, assign proper category and tags and you are done. It will automatically appear organized in the preview of your website.
Permalink structure
WordPress lets you set a unique permalink structure which is another factor that counts in SEO. The default structure of permalink in WordPress isn't really optimal but you can change it to make it SEO friendly on your own.
Variety of SEO plugins
WordPress is a plugin heaven and that's what makes your website unique. It offers plenty of SEO plugins such as Yoast SEO to let you configure your website's SEO. Once you have configured the settings, you your content will start optimizing on its own. You can also use Google analytics and other plugins … Read the rest